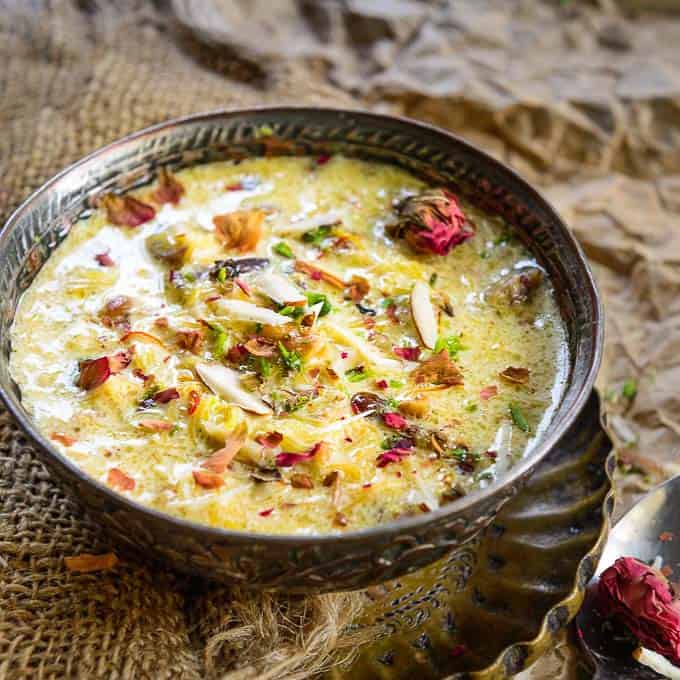 Hyderabadi Sheer Khurma is a traditional recipe which is a must make for the festival of Eid. It's made using nylon vermicelli cooked in milk and dry fruits.
Ingredients
3 tbsp Ghee
3-4 Clove
10-12 Almonds Crushed
10-12 Cashew Nuts Crushed
10-12 Raisins
2 tbsp Pistachios Crushed
2 tbsp Chironji
1 cup Fine Vermicelli
1 litre Full Fat Milk
5-6 Dates Chopped
1/4 cup Sugar
15-20 strands saffron Soaked in 2 tbsp milk
1/2 tsp Cardamom Powder
Instructions
1) Heat ghee in a heavy bottom pan.
2) Add cloves, almonds, cashew nuts, raisins, pistachios and Chironji and fry till they are slightly browned.
3) Add vermicelli and fry till slightly browned.
4) Now add milk and dates and cook for 10-12 minutes till vermicelli is softened.
5) Add sugar, saffron soaked in milk and cardamom powder and cook for another minute.
6) Transfer the Sheer Khurma in serving bowls.
7) Garnish with almonds and pistachio slivers.
8) Serve warm.
Credits - whiskaffair.com
0 Comments